Nancy Daniels – Voicing It!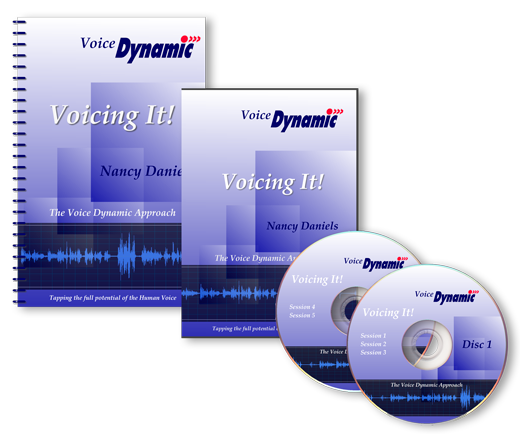 Nancy Daniels – Voicing It!
When you hear yourself on a tape recorder, telephone answering machine or camcorder, are you shocked? Disgusted? Disbelieving?
If 55% of the image you project is the visual and 8% your content, that leaves 37% attributed to the sound of your speaking voice — the voice you hear on your answering machine, not the one you hear in your head. Now imagine that percentage over the telephone where there is no visual!
With the The Voice Dynamic Approach you will learn the secrets that celebrities, radio personalities, politicians and even professional athletes already know — at a fraction of the cost. People will not only 'hear' you differently; they will 'see' you differently as well…
The benefits?
You will:
1. Sound more mature
2. Feel more confident
3. Experience greater relaxation in public speaking
4. Project a more dynamic image!
The Voice Dynamic Approach Includes:
* My 5-Session Voicing It! Training Video you can follow in the comfort of your home that takes you through the entire voice improvement process just as if you were working with me personally.
* My definitive 150-page Voicing It! Manual
* Bonus The 5 Qualifications of a Dynamic Speaker
The Voice Dynamic Approach features 5 Sessions..
Improve your diction, increase your success
Tired of having people ask you to repeat yourself because you mumble, have lockjaw, or talk with a dialect or accent? How much could you benefit just from speaking more clearly? Would you like to learn the best techniques for eliminating excessive nasality in your voice? One of the greatest benefits for my clients is that their articulation improves. You can hear it in the 'before' & 'after' videos; and, you will hear it in your own 'before' & 'after' recording.
Eliminate vocal abuse in 10 minutes or less
In addition to learning the correct means of breathing with the support of your diaphragm, you will be given exercises to practice while you are doing other things, like driving, walking, ironing, golfing, and even showering (yes, that means in the shower!).
Discover how to transform your voice forever
You will begin this session with your 'old' voice and end it with your 'new' one. Certainly an exciting proposition when you consider how simple the techniques are for finding your optimum voice. Try your 'new' voice in the shower….you'll be amazed at the sound! Do you talk at 100 mph and need to slow it down? Don't worry. We cover speed in this session too!
Increase your volume, without SHOUTING!
If you are soft-spoken, you will learn how to train your inner ear to recognize a larger voice, not a loud one. Projection, on the other hand, is the ability to increase your voice beyond a normal volume level necessary for many forms of public speaking, for calling the dog, and also for making your kids listen to you. Whenever I give a presentation, a seminar, a corporate workshop, or a private consultation, I always tell my audience, "I never yelled at my kids; I projected!."
Secrets for speaking in living color
Being expressive in conversation, on the podium, or in a sales presentation is one of the most important characteristics of a dynamic speaker. So I'm providing the mirror, because I want you to not only exhibit variety in your voice, but also in your face and in your body language.
Bonus: Unlock the Keys to Great Public Speaking
As an added bonus, we will cover 5 strategies that will not only help you control nervousness on the podium but also become more dynamic in any form of public speaking. At the end of this session, you will be asked to tape yourself reading the same item you read in Session 1. You will then play back the the 'before' & 'after' recording and hear the amazing changes.
That's The Voice Dynamic Approach!
Let the power of your voice take their breath away… not yours!
Archive: https://web.archive.org/web/20130828115948/http://www.voicedynamic.com/products.htm
Shipping method
– After making a purchase, you will see a View your order link to the Downloads page. Here you can download all the files related to your order.
– In case the link is broken for any reason, please contact us and we will resend a new download link.
– If you can't find the download link, please don't worry about it. This course is usually available and shipped within one day
– The course you purchased will have lifetime access
– Our support staff is the best by far! Please contact us at email: [email protected] and we will be happy to help!